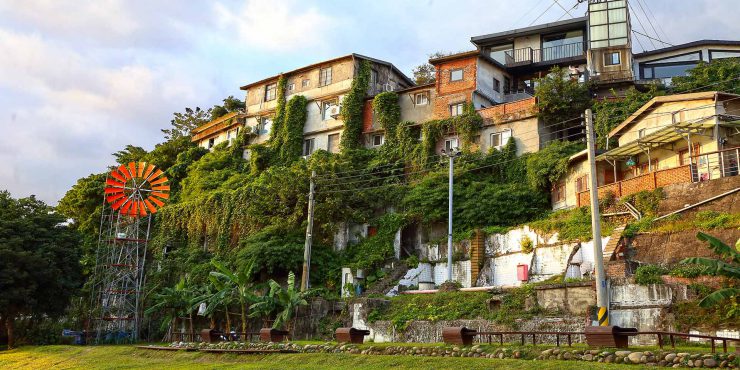 Artist-in-Residence Taipei program announced the result of the Open Call for the International Residency Program. As of the application deadline, 700 submissions were received and… I'm one of the selected artists!
So this will be my home next summer. I'll be living 3 months on the Treasure Hill with other international and Taiwanese artists, discovering the story of this place, which is worth a little story-telling here:
Nowadays Treasure Hill Artist Village is known as a contemporary institution located along the Xindian River in Taipei (Taiwan). There you can find art installations, jewellery makers, ceramicists and sound installations hidden inside the poky apartments, subterranean bomb shelters, empty swimming pools and vertiginous attics of this tiny township, which appears as a series of concrete and brick cubes balanced one on top of the other on a steep hillside.
But after World War II, when the Chinese Nationalist government took over from Taipei's preceding Japanese rule, Treasure Hill was zoned for military use. Various Army personnel, the Navy and Military Police were quartered here. When the military left the area in 1979, old soldiers, demobilised military personnel, disadvantaged community groups and many people from the countryside that had come to Taipei looking for employment in the city took up residence here. It soon became an overpopulated, illegal squatter's settlement. In 1980, the settlement faced demolition due to an unprecedented urban-development plan. The arts community and social activists started campaigning to save it. In 1999, the government announced that Treasure Hill would indeed be saved, and that an artist village would be established here. Just over ten years later, Treasure Hill Artist Village was opened.
But artists are not the only residents here: war veterans left over from the community's military days and their families live side by side with them, sharing everyday life.
This is a very nice story to tell, isn't it?
My aim for the THAV-residency is to develop a new performative form between installation and concert. Right now I'm working on it with the Taiwanese composer Shih-Wei Lo who is writing a site-specific piece for the occasion. We will perform it at the village in September 2020.
More here: artistvillage.org