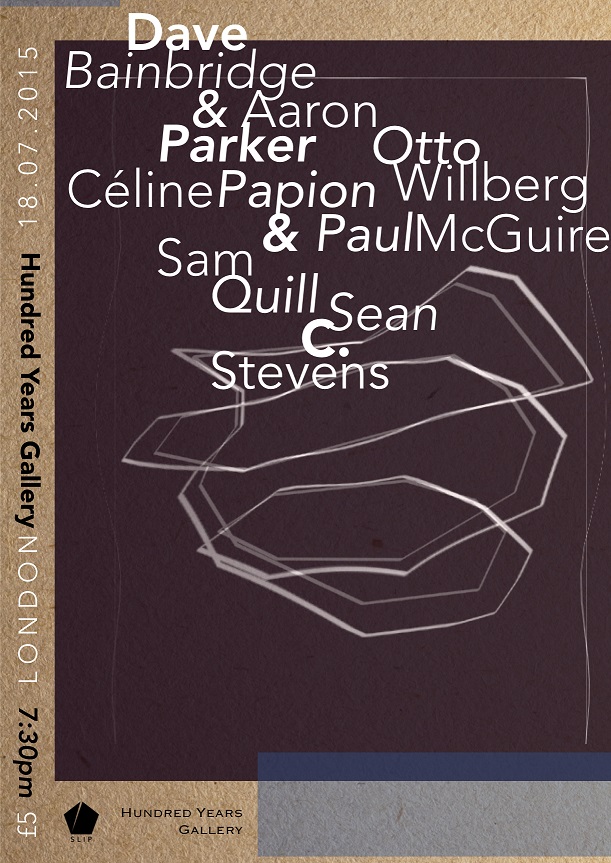 Saturday 18th July 2015
Doors at 7:30pm | performances at 8pm sharp | £5
Hundred Years Gallery, 13 Pearson St. London E2 8JD
Berlin-via-London imprint Slip​ touch down in force with a night of performances, readings, and installations at Hundred Years Gallery​. All sets are – at the very least – London premieres, come from a cast of international contributors, and are built with the gallery's singular space in mind.
Program:
Paul McGuire: 'Tampered' *
Otto Willberg: 'Solo' **
Aaron Parker: 'Guitar music' ***
Sam Quill – 'Fourteen Sonnets'
Sean C. Stevens – Installation
* – performed by Céline Papion (cello)
** – double bass
*** – performed by Dave Bainbridge (guitars + electronics)
Paul McGuire's fastidious music wrenches the fizzes, crackles, and hums of acoustic instruments into towering swarms of sound. 'Tampered', performed here by the extraordinary Stuttgart-based cellist Céline Papion, features on his debut album 'Sleep Spindles' [SLP013], which landed on Slip in June.
Otto Willberg is an improvising musician and composer, who mostly plays the double bass. His obsessive, and slightly unhinged tape 'Got Gills?' is issued this July on Slip, and is his first release with the imprint.
Aaron Parker makes acoustic and electronic music peculiarly attuned to the behavioural characteristics of environmental sound. His work with experimental brewer and guitarist Dave Bainbridge, much like the work collected on his 2015 Slip release 'Storage', is a rumination on the precise GPS location at which it was completed.
Sam Quill is a poet who wrestles fierce feeling into taut forms. A recording of his sonnets is due on Slip in the Autumn, and today is the first time they've been aired in full.
Sean C. Stevens' erratic electronic music is rendered in scrupulous detail. His forthcomingdebut Slip LP 'March Of The Whales' is a disorientating, and dramatic trip through stuttering rhythms, synthetic drones, and disembodied machine melodies. Tonight, his work will be played through multiple small battery-powered speakers, giving them a sense of 3D location fitting with the 'acoustic' nature of the program.