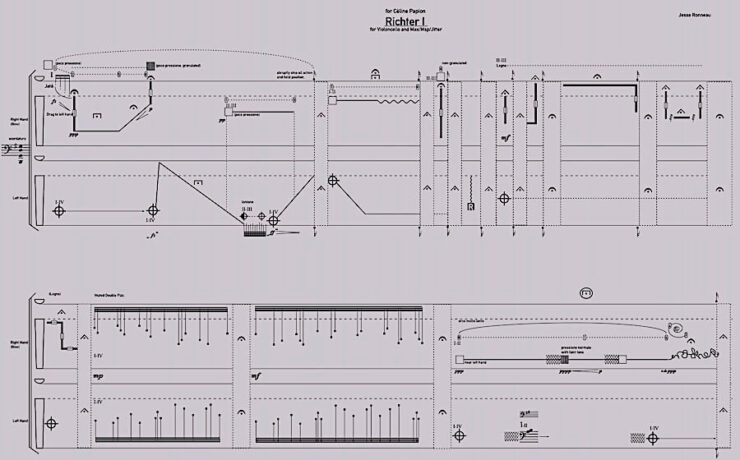 05.11.20. – 19:00
Württembergischer Kunstverein
Schlossplatz 2, 70173 Stuttgart
Part of the International Digitalkunst Festival 2020
Joseph Michaels – Pleochroma for cello and video (2019)
I-lly Cheng – Yours Mine for a performer with any instrument, voice and flexible tape (UA)
Jesse Ronneau – Richter 1 for cello, electronics and video (2014)
Céline understands music not as a one-dimensional medium. For we (the audience, the interpret, the composer) are not one-dimensional beings. Our experience of a piece is always concrete and personal, influenced by our state of mind, our concentration, our sensations, our cultural background and possibly a glass of wine. Sitting in a concert hall, we take into account the audience's energy, the room, the light, the stage and also the performer's body. We "absorb" it and let subjective associations happen. There are many parameters with which composers and performers play and experiment during the development of a piece or concert programme.
This is a showcase with 3 pieces for cello, electronics and new media, which Céline presents together with the computer musician Remmy Canedo.
All three have been written within the last 10 years for or with Céline by composers with very different backgrounds and focus on expanding the musical material through photography, video and personal sound archives. All three open wonderful spaces of association.
In order to call for an active and playful listening, Céline deliberately refrains from giving the audience a programme text. Pictograms projected as an introduction to each piece serve as a trigger for interpretation.
The world premiere of the piece Yours Mine by I-lly Cheng is supported by the "National Culture and Arts Foundation" from Taiwan.
Céline Papion, cello
Remmy Canedo, live electronics & sound design
Joerg Hildenbrand, intro animation