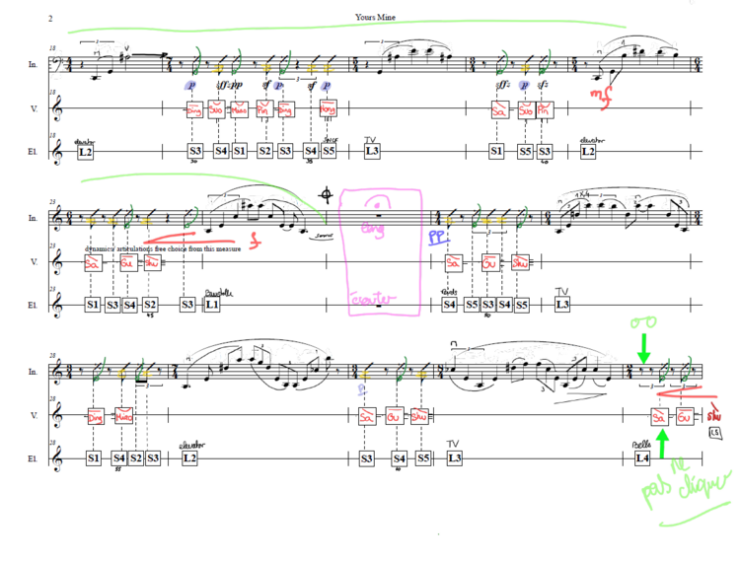 "Yours Mine" is a project by Taiwanese composer I-lly Cheng that explores a cross-cultural/ creative role collaboration process between a composer and the performers. she starts from the idea that a composer's individuality is reflected in his/her composition, and a performer's individuality in his/her interpretation. In a process of co-composition she tries to deconstruct these roles:
"Yours Mine" is a project that explores a cross-cultural/ creative role collaboration process between a composer and the performers.
How do we cultivate cultural awareness in a creative process?
How do we break from the traditional composer/performer roles allowed for open dialogues in a collaborative process?
In the project, the performers will take part in the process of composing by choosing the various musical materials in a questionnaire given by the composer. As each person comes with different life experiences, cultural backgrounds, preferences to different sounds, the outcomes of each composition will be unique.


more about the project here => i-llycheng.com/yoursmine
The composer-performer relationship has evolved enormously over the last few decades: I have more and more experienced working in pairs, composers performing their own pieces, or performers who are involved in the creation of a piece from its conception. The guiding principle becomes "get your hands dirty"! Very often the result appears to be very personal because it is nourished by the aesthetics and commitment of each person. To tell the truth, for me it is one of the great opportunities of contemporary music and I have been favouring this kind of work for a few years now. So when I-lly asked me to participate in her project "Yours Mine" I was immediately enthusiastic.
The structure of her score is constructed in such a way that the performer can give it a very personal aesthetic, mood and colour. The process of co-composition is very clear and well framed, I-lly is super reactive to questions and requests and it remains for the musician to "play" in the full sense of the word!
The first step was to make a first draft by putting together the different samples, texts and words. Then in practice absurd and funny combinations were formed by chance (e.g. the "Merci!" and applause with Desproges' text about his hatred of encores). So I decided to play with these effects, to create new ones by arranging or adapting these materials in order to allow correspondences or opposites.
I also decided to open up the composer-performer pair and integrate the audience into the process: in the central part where the texts appear, I have chosen two fragments whose authors address the audience directly and take it as a witness. Of course, the languages are mixed (English, French, Mandarin) and each member of the audience will have his or her own reading of the piece according to his or her understanding of languages and imagination.
Finally, I personally liked that the piece is based on the sounds that surround us at a certain time and place. It was a possibility to anchor this piece in the sound space of 2020, like a diary of this special year.
As the piece is very open, I would like to rethink, reshape and replay it in a different context and see how it can express something completely new… and of course to finally play it in public!
Yours Mine is supported by the National Culture and Arts Foundation, Taïwan.