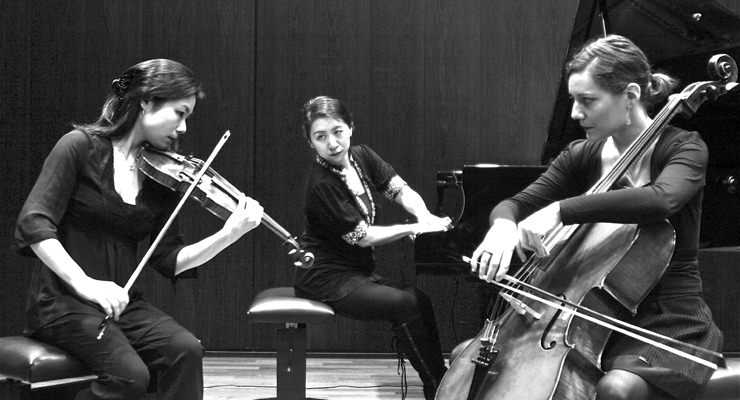 NOVO BRASIL!
09.03.2013, Lübeck, DE – Premiere!
11.04.2013, Esslingen, DE
21.08.2013, Curitiba, BR
24.08.2013, Campinas, BR
10.12.2014, Reutlingen, DE
Em seu projeto "NOVO BRASIL!", o ensemble cross.art (Stuttgart, Alemanha) se propõe a pesquisar e apresentar a nova música brasileira e o trabalho de compositores atuantes em uma cena internacional mais ampla. A idéia deste projeto surgiu do rico e profundo trabalho do ensemble em sua primeira viagem ao Brasil em 2011, durante a I Bienal Música Hoje, onde os músicos descobriram uma riqueza e originalidade para além da famosa música popular, e desenvolveram um novo olhar também para a nova música de concerto.
O ensemble cross.art foi fundado em 2008 com o objetivo de trabalhar novas obras diretamente com seus compositores, assim como a relação da música com outras formas de arte. Um outro importante aspecto do trabalho do cross.art é o intercâmbio entre as diversas culturas musicais. Originalmente centrado em Stuttgart, na Alemanha, o ensemble é um grupo de músicos de altíssimo nível das mais diversas origens geográficas. Em seus vários anos de trabalho, o ensemble já se apresentou em diversos países da Europa, América e Ásia, além de várias cidades alemãs.
Para o projeto "NOVO BRASIL!", o cross.art vem a Curitiba com Saeko Takayama (violino), Céline Papion (violoncello) e Junko Yamamoto (Piano).
★★★
In its project "NEW BRAZIL", the ensemble cross.art (Stuttgart, Germany) proposes to research and present New Brazilian music and the work of composers active in a broader international scene. This project's idea came from the deep rich ensemble work on its first trip to Brazil in 2011, during the First Biennial Music Today, where musicians discovered the richness and originality beyond the already world famous popular music. They also developed a new look for the new concert music.
The ensemble Cross.art was founded in 2008 with the goal of working new works both directly with composers, as well as developing the relationship between music and other art forms. Another important aspect of cross.art's work is the exchange between different musical cultures. Originally centered in Stuttgart, Germany, the ensemble is a group of musicians of the highest level from diverse geographical origins. In his many years of work, the ensemble has performed in several countries in Europe, America and Asia, and several German cities. For the project "NEW BRAZIL", cross.art comes to Curitiba with Saeko Takayama (violin), Céline Papion (cello) and Junko Yamamoto (Piano).