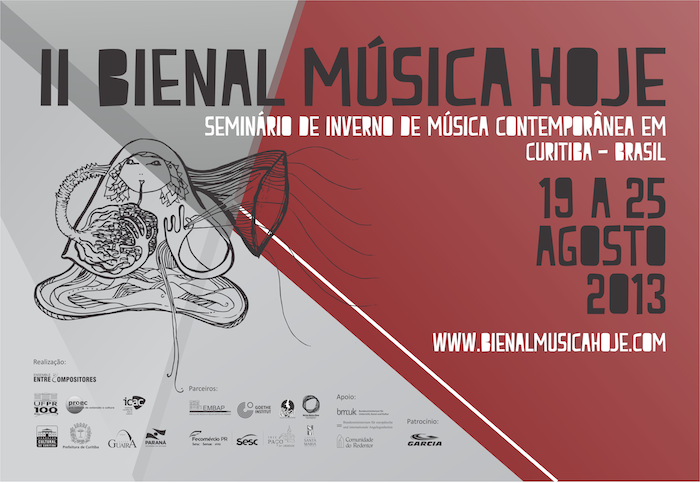 Oficina de composição ★ 19 a 23 Agosto
Marcos Balter & ensemble cross.art
Seguindo o princípio de que um festival de música deve não só apresentar concertos, mas também desenvolver uma parte didática de formação, a Bienal Música Hoje apresenta ao público nesta sexta-feira o resultado de sua Oficina de Composição que, ao lado de palestras e mesas redondas, constituiu um painel amplo de discussões e possibilidades de diversas de trocas entre profissionais em diferentes níveis de desenvolvimento, assim como para o público em geral  –  o Seminário de Inverno de Música Contemporânea em Curitiba.
Para a Oficina de Composição, quatro jovens compositores — Guilherme Bertissolo (Brasil), Morgan Krauss (Estados Unidos), Paul McGuire (Irlanda) e Rodrigo Bussad (Brasil) –  foram selecionados entre mais de quarenta candidatos do mundo inteiro, e trabalharão uma semana com o ensemble cross.art ( Stuttgart, Alemanha) sob a orientação do professor residente da II Bienal Música Hoje, Marcos Balter (Columbia College Chicago, Estados-Unidos ). O resultado deste trabalho pode ser conferido no concerto do dia 23 de Agosto no SESC Paço da Liberdade.
 ★★★
Following the principle that a music festival should not only present concerts, but also develop the educational aspect, the Biennial Music Today presents to the public on Friday the composition workshop pieces, alongside with lectures and debates, this workshop was a vast discussion panel with many exchange possibilities among professionals in different levels of development, as well as the public in general. The "Winter Seminar of Contemporary Music in Curitiba" took place also during this week's activities as part of the workshop.
The Composition Workshop was held for four young composers – Guilherme Bertissolo (Brazil), Morgan Krauss (United States), Paul McGuire (Ireland) and Rodrigo Bussad (Brazil) – They were selected from more than forty candidates from around the world, and have worked for a week together with the ensemble cross.art (Stuttgart, Germany) under 2nd Biennial's Resident Composer, Marcos Balter (Columbia College Chicago, USA).
Service:
ensemble cross.art | Workshop Composition Concert
Date: August 23rd, Thursday
Location: SESC Paço da Liberdade
Time: 5.30PM (5PM Pre-Concert talk)
Admission: Free Admittance