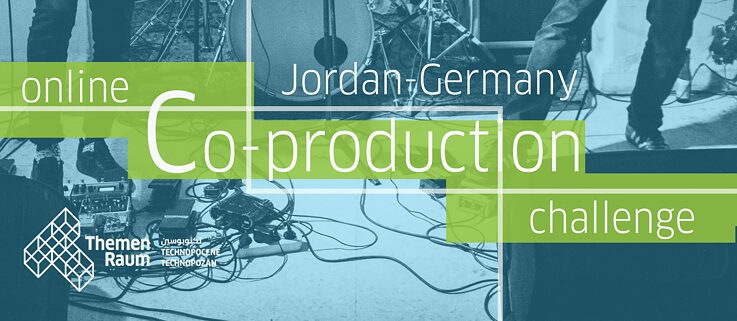 With the goal to encourage new collaborations and innovative productions in a time of global lock-down, the Goethe-Institut Jordan selected artists living in Germany and Jordan for an online co-production challenge.
And Baaammm! After a super-spontaneous application, Deema Shahin, artist filmmaker living in Amman and I were matched to work together. We never saw each other, we never worked together! On April 15th we began to chat on Skype and send each other audio and video recordings of our environments and lives. We happened, in this short process, to get to know more about one another as a person and an artist. That opened up unexpected avenues of details and possibilities that could feed and inspire the basis for a lot more in terms of music composition and cinematography.
In our respective fields, we both work in an international context: we left our home country to study abroad and since then, we have both developed projects or participated in artist residencies in countries as diverse as Spain, Egypt, Malta, Brazil, Romania, Taiwan and Borneo. Through these experiences and especially the exchange with other cultures and the people who live and transport them, we have been working on the concepts of home, identity, perception and creation. Each in our own way, but this dimension of our personal work is a predestined basis for our work together.
This spring 2020 these topics are more relevant than ever. Like everyone else, we live at the pace of the Coronavirus, deprived of our routines, our colleagues, tools and familiar ways of working, we are stuck at home behind our screens. Schools, museums, theatres, concert halls, shops are closed, the call to prayer and church bells invite us to pray at home, the airplanes are grounded: the world seems to be shrinking, but as the same time our direct environment, our neighbourhood, our inner world, our perception, our possibilities of creation, seem to get bigger, sharper, deeper, even to be magnified. We rediscover awareness.
This, we want to explore further and elaborate on in a collaborative artwork, in this particular moment, revolving and focusing on the themes of neighbourhood, perception and repetition.
What we are planning is a visual and musical track that will act somehow as a [docu]-commentary on our specific lives in Stuttgart and Amman in COVID times in the specific timeframe of April, 15th till May, 31st.
This artwork aspires to invoke contemplation beyond the obvious that is the already-well-given reason of the vast differences between Stuttgart and Amman on many levels, to the most amazing unexpected similarities that we may find in the details between us.
Stay tuned, we should be finished by the begin of June and go online with it!
To know more about the Call for challenge, the Goethe Institut – Jordan and the other selected artists, have a look here!