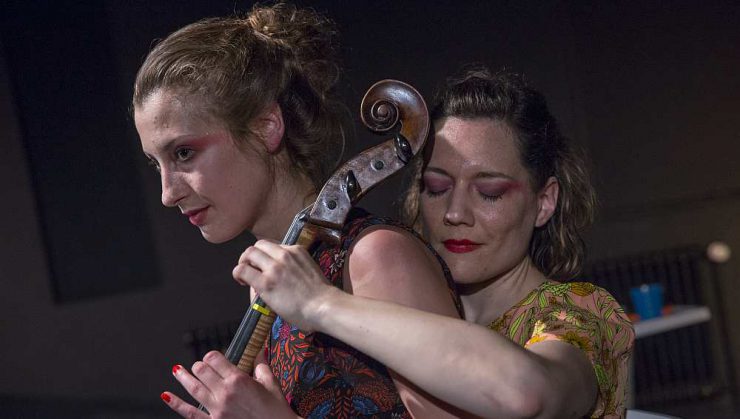 FreiSpiel "Zupfenstreich"
ein kleines Konzert für kleine Hörer ab 3 Jahren
Junge Ensemble Stuttgart
Do. 23.06.2016 – 18:00
Fr. 24.06.2016 – 09:30
So. 26.06.2016 – 11:00
So. 02.10.2016 – 10:30
Adresse: Eberhardstraße 61 | 70173 Stuttgart
Eintrittspreis: Kinder/Jugendliche € 5,50 | Erwachsene € 8
Performers: Franziska Schmitz & Céline Papion
Dramaturgie: Julia Dina Heße
Bei "FreiSpielen" am Stuttgarter JES versuchen Ensemblemitglieder zusammen mit Gästen eigene Wege zu gehen, um das Motto "was wir schon immer mal ausprobieren wollten!" einzulösen. Und jetzt bin ich dran mit der Schauspielerin Franziska Schmitz – meine liebe Kollegin von "Ein Schaf fürs leben" – und der experimentierfreudigen Dramaturgin und Leiterin des Jungen Theaters Münster Julia Dina Heße : Le Grand Luxe!
Was Franziska und ich im JES schon lange probieren wollten, war ein Stück zu entwickeln, wo das Hören im Mittelpunkt steht und das, bitte schön, für die Allerkleinsten: ab 3 Jahren.
Gemeinsam mit Julia versuchen wir aus Geräuschen, Lauten, Tönen, Rythmen und Wortspielen die Entstehung von Klängen zu zeigen. Getreu dem Credo von John Cage: "Musik ist die bewusste Erzeugung von Klängen".
Wir sind gerade am proben: zupfen, streichen, klopfen, quietschen, singen, flüstern und dazwischen erkennt man vielleicht doch etwas von Bach, Cage oder Aperghis.
Komm einfach vorbei, mit oder ohne Kind! => JES – FreiSpiel 14 – Zupfenstreich
♦♦♦♦♦♦♦♦♦
FreePlay – 'Plucking Strings'
a small concert for little listeners (from 3 years of age)
Junge Ensemble Stuttgart

'Free Play', at the Stuttgart Theater, brings together members of the JES (Youth Ensemble Stuttgart) and invited guests in an attempt to find their own paths under the motto 'what we always wanted to try'. Now it is my turn, together with the actress Franziska Schmitz- my lovely colleague from 'A Sheep for life'- and the always happy-to-experiment dramatist (and director of Junges Theater Münster) Julia Dina Heße. What a luxury!
For a long time now Franziska and I have wanted to try to develop a piece where listening is front and center (and thus, please, for children 3 years of older). Together with Julia Dina Heße, we will try -through noises, ringing, tones, rhythm and word games- to show the origins of Sounds. True to the mantra of John Cage 'Music is the deliberate creation of sounds'
We are currently developing the idea: Plucking, bowing, knocking, squeaking, singing, whispering and perhaps in between one can recognize something from Bach, Cage or Aperghis.
Come on by, with or without kids! => JES – FreiSpiel 14 – Zupfenstreich