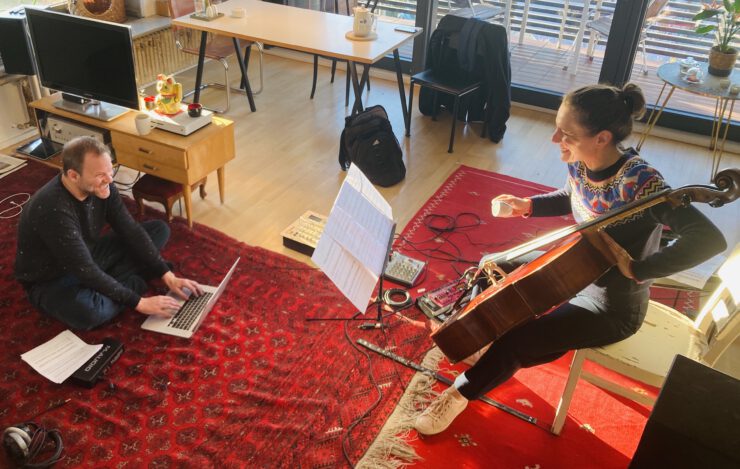 Less known than Beckett, Kafka or Camus, Daniil Kharms (also known as "Charms", "Harms" or "Chorms") is considered a pioneer of the literary movement of the absurd and belongs to the "great family of the funny desperates" [1]. His prose work consists mainly of short vignettes in which irony, tenderness, helplessness, scurrility and violence alternate in scenes of everyday life. I discovered his short stories a few years ago. They fascinated me, made me laugh a lot and grind my teeth. Then I forgot about them. Bring down the curtain. A story à la Kharms.
And then the covid epidemic entered our lives and turned our daily lives upside down. Over the months, as I observed tragic or comical situations and absurd behaviour, I was reminded of Kharms' world. A world that is completely unpredictable and incoherent; characters endlessly repeating the same actions or behaving irrationally in a confined space; linear stories that begin to develop, abruptly interrupted by events that cause them to ricochet in completely unexpected directions and seem like dream descriptions.
These short stories are suddenly surprisingly topical and pertinent: they fundamentally question our lives and actions, open up new perspectives on reality and help us laugh at them despite everything. But they also remind me of my role as an artist: to appropriate reality, then to elude it and finally to develop a meta-level.
For the "Scholarship for the Promotion of Artistic Practice in the Corona Pandemic" of the Ministry of Science, Research and the Arts Baden-Württemberg, I decided to use Kharms' texts as inspiration and to create a contemporary piece of music for cello together with the composer Joseph Michaels, a long-time colleague and friend. The result was "The time limits of dust – for amplified cello, objects, loop station and playback".
This text in particular served us as a concept, inspiration and working framework for the development of the piece:
How easy it is for a person to get tangled up in insignificant things. You can walk for hours from the table to the wardrobe and from the wardrobe to the couch and never find a way out. You can even forget where you are and shoot arrows into some small cabinet on the wall. "Beware, cabinet!" you can yell at it. "I'll get you!" Or you can lie down on the floor and examine the dust. There is inspiration in this, too. It's best to do it on a schedule, in conformity with time. Although it's difficult to determine the time limit, for what are the time limits of dust? [2]
1. "Examine the dust" – Research work
In terms of composition, the only framework I had set for myself from the beginning was that I wanted to build the piece using sampling and looping techniques, as there were obvious parallels to the short, repetitive forms of Charms' vignettes.
For me, the collaboration with composer Joseph Michaels, with whom I have worked on and off for 13 years, was immediately obvious: repetition and sampling are techniques he has used for years as the basis for his compositions. Moreover, his works are often characterised by humour and absurdity.
Working in the Boss RC300 loop station: The instrumentation was also fixed. The piece was to be written for cello and loop station Boss RC300. So I started playing, practising and experimenting with the possibilities of this device. I also sought advice and lessons from colleagues like Scott Roller and Frank Wolf.
Search and selection of the text: In parallel, I delved into searching for appropriate texts to gain inspiration and set a thematic focus. I then discovered notes from Charms' diary from 1940, at which time he was accused of anti-Soviet activities and was no longer allowed to publish. He lived under censorship and with very few resources. His world was shrinking. The above text inspired Joseph Michaels and me immediately. It doesn't tell a detached story, but gives a personal observation that could be the beginning of a small manual for inspiration. And coming from Charms, it is of course tinged with humour and self-mockery, but also with much comfort and tenderness. It captures the monotony of our lives under Covid, but also encourages us to look for the beauty in the everyday.
So we decided to focus on the monotony and familiarity of our daily routines. We looked for sounds from our repeated occupations that accumulate into patterns and gradually change, like dust lying on a table in the sun. We scrutinised our rituals, the objects we touch every day without seeing them. All this without judging whether it was pleasant, boring, funny or depressing: the observation was to become a kind of trance, a meditation.
At this point I would like to make a necessary digression: What interests us in this text is the familiarity of monotony and the "beauty of small things". It is important to underline that in no way do we want to draw parallels between the context of artistic censorship and extreme deprivation that Kharms experienced under the Stalinist regime, and our privileged experience as artists living in Germany, whose creative work is partly prevented by the restrictions due to the Corona virus, but supported by a scholarship! …Bracket closed.
2. "It's best to do it on a schedule, in conformity with time" – Conception and composition process
Dusty Fridays: Joseph Michaels and I organise our work true to Charms' remark: "on schedule". We decide to meet every Friday to exchange ideas and test the sound material we have found during the week. Soon we call these meetings "Dusty Fridays".
The sound material we collect is meant to both tell of the monotony and beauty of repetitive everyday life, and to evoke deprivation. Joseph Michaels proposes to use the cello in a non-traditional way: symbolically, he takes away my bow, which we "replace" with everyday objects (espresso cup, pencil, sheet of paper…). The sounds produced on the instrument are absurd or unexpected, as is the image of the concentrated cellist rubbing her toothbrush on the bridge. A playback added to the sounds of the cello and the loop station reinforces the impression of layers of sound.
We use repetitions of short motifs that last for quite a while and gradually merge into each other to replicate the loss of our sense of time during the Covid period, where the beginning and end of our activities became unclear.
3. "Never find a way out" – On the art of getting lost along the way
It is worth noting that although this was of course not a conscious part of our working process, we may very well have lost ourselves at some point in the meandering layers of dust, the intriguing sounds of coffee cups and the endless possibilities of my fantastic loop station. By the end of December 2021, the piece was composed, but it still needed to be rehearsed and turned into a video documentary. Therefore, after approval, we had to postpone the end of our grants until the end of January 2022.
Getting lost in the observation and development of noises, sounds, techniques and forms was, after all, inherent in our approach. It was also a beautiful experience of letting go, which Charms taught us. We are grateful to the "Ministerium für Wissenschaft, Forschung und Kunst Baden-Württemberg" for their understanding.
4. "For what are the time limits of dust?" – The work
This project was funded by a grant from the "Ministerium für Wissenschaft, Forschung und Kunst Baden-Württemberg"
[1] Georges Nivat, Vers la fin du mythe russe: Essais sur la culture russe, de Gogol à nos jours (Collection Slavica, 1982), 236.
[2] Daniil Kharms and Matvei Yankelevich, Today I Wrote Nothing: The Selected Writing of Daniil Kharms (New York, Ny: Ardis Publishers, 2009), 263.